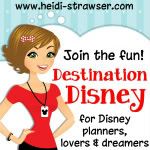 I've always been one to invite myself to a party. And Heidi seems to be throwing a fun Disney party! Each week she's linking up bloggers to talk Disney favorites. This week is attractions! I actually wrote out my list by hand before I started typing this (Narrowing down to 10? Hard!). So in no particular order and with out further ado...
Spaceship Earth! Ok I lied this one is in order as it is my most favorite. A trip is not complete until I have thanked the Phoenicians!
2. Test Track: Ok now we're back out of order... I love Test Track. I try to ride it as often as I possibly can. I also like to heckle as it gets up to only 60 MPH. ;-)
3. Dinosaur: Ok it's a dark scary ride that most people hate. But I love it! I think it is well done and a lot of fun. And yeah it's kind of scary but that's fun for me.
4. It's Tough to be a Bug: It was one of the first Disney 4D shows I saw as a kid. I love it still over a decade later. It's fun and silly and still a good time.
5. La Cave del Tequila... I mean the Gran Fiesta Tour... Forget it! The whole Mexico pavilion! Yes I love that entire pavilion and I don't think you can just do the Gran Fiesta Tour or just go to La Cava. You have to experience the whole thing!
6. Star Tours: Between the ride being a random selection of scenes and the 4D ride effect without any real drops or loops this has to be one of my favorite rides. Honestly I am a wimp and it's nice to have something feel awesome but be so safe.
7. Muppet Vision 3D: I love the Muppets and I love 4D shows. This show is funny as all! And I love the details before you even get into the theater. Take some time and look around next time you're there.
8. The Haunted Mansion: I love this ride so much I always volunteer to be the 1000th ghost. Sadly they haven't taken me...Yet!
9: Pirates of the Caribbean: We wants the red head! So much fun and any ride where I can see Johnny Depp (I'll take the animatronic version) rocks!
10. Mickey's Philharmagic: Best 4D show to date! Fun and with all those classic movie moments from the 90's movies I love so much. The music and the images are just so perfect.